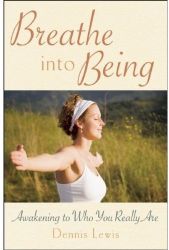 "Following up on author Dennis Lewis' previous books on breathing, this represents his most straightforward, nurturing approach to the subject. Divided into brief, accessible chapters, the book features short, simple breathing exercises that lead readers to a profound awareness of their essential being through the miracle of the breath as it manifests in the body. Lewis presents breathing as an ever-present gateway to awakening to the true self. Based on his extensive teachings and workshops as well as his engagement with various traditions including Taoism, Advaita, and the Gurdjieff Work, Breathe into Being helps readers awaken to a larger perspective to receive new, direct impressions of the truth of their lives. Readers also become conscious of their bodies as a sacred temples that can lead to the source of all being; release constricting physical and emotional tensions; and enhance breathing itself in new self-created conditions of comfort, openness, and ease of being." (From the publisher)
Read The Table of Contents of Breathe Into Being
Order Breathe Into Being today, in paperback or for instant download, through Amazon.com
Praise for Breathe Into Being
"We all know that breathing is essential to life. But this book helps us to discover its immense importance not only to physical life, but to the very meaning of what we are and what we can become."–Jacob Needleman, author of Why Can't We Be Good? and The American Soul
"Dennis Lewis has written a very wise and highly readable book about one of the most fundamental insights of the great spiritual traditions: the breath is a mediator between mind and body, and is a bridge to the transcendent. This is a marvelous guidebook in cultivating awareness and living in the now. All valid spiritual instruction is simple and unadorned — as simple as breathing, as Lewis makes clear in Breathe Into Being."–Larry Dossey, M.D., author of Healing Words and The Power Of Premonitions
"Breathe Into Being is both a fun and a must read, a fountain of practical wisdom for self-exploration that is delicious on the tongue of the soul while quenching our thirst for the knowledge of enlightenment. It is perhaps the most important self-help book – in the deeper sense of that expression – to come out in the new millennium."–Glenn H. Mullin, author of The Fourteen Dalai Lamas: A Sacred Legacy of Reincarnation
"Breathe Into Being is a most practical, user-friendly yet profound guide to awakening, with simple exercises that blow away the conditioned mind's veils, allowing one's inner light to shine forth. I highly recommend it."–Leonard Laskow, M.D., author of Healing with Love.
"Dennis is a master teacher who stands fast in the profound truth that when we welcome this moment just as it is, life works. How simple. How overlooked. How astonishing and wonderful. The secret he reveals: all that we need do is attend to our body's natural function of breathing in, and breathing out. Nothing more is needed. Listen to Dennis. Breathe. Be still and awaken into living your alive, joyful and harmonious Presence that Dennis so beautifully reveals."–Richard Miller, PhD, author of Yoga Nidra: The Meditative Heart of Yoga (Sounds True), is president of the Center of Timeless Being and co-founder of the International Association of Yoga Therapists.
"A refreshingly simple, straightforward, and enjoyable exploration of the connections between body, breath, awareness, and presence. This user-friendly guidebook will help you be more embodied and awake."–John Welwood, author of Toward a Psychology of Awakening
"In light of our fast often distressful pace of living, when one can read something that is both interesting and inspiring yet slows us down to breathe easier and effortlessly in the moment, it is a very good thing. Dennis Lewis' latest book Breathe Into Being does just that. Read it and let it breathe you."–Mike White, Director, The Optimal Breathing School and Institute
Reviews of Breathe Into Being
Collective Evolution, review by Michael Jeffreys
(Quotation from the review)
"After reading this little 115 page book (which is broken up into many short, easy to read chapters, approximately one per page), you will never look at your breath in quite the same way. What sets Breathe into Being by Dennis Lewis apart from other books on "breath-work" is that it focuses on the inherent mystical aspect of our breath. In other words, you may have picked up the book in order to become more aware of your breath, but by the time you put it down you realize it is not your breath at all… it's God's breath! And this powerful realization profoundly changes the way you view yourself, the world, and your fellow-man. Unity goes from being a nice concept, to what has always been the case, but was simply not noticed because we were so caught up in our thoughts, and so felt separate from everything else. Our breath becomes our ever-present portal back home to the Infinite."
The Gnostic: A Journal of Gnosticism, Western Esotericism and Spirituality
(Quotations from the review)
"I've had a long interest in the use of following the breath for developing mindfulness, and Dennis Lewis' work is one of the clearest and most practical expositions of this powerful tool for awakening."
"There are no lengthy and learned treatises here, but a rich tapestry of around 70 micro-chapters. … Each chapter contains a specific practice, and there were many unique exercises that I had not seen before which I immediately incorporated into my daily practice. … the main focus of these practices is developing non-attachment, or non-identification, gently disengaging our identity away from the ego or personality, and releasing it into that wider ground of being that we are."
"Lewis' practices of simply following the breath are effective tools for generating mindfulness and presence, the space in which we can discover the truth about ourselves and the world. They are wonderful exercises for developing that most valuable of spiritual commodities: attention."
"Breathe into Being is one of the most sophisticated guides to awakening I have read."
Tony Cartledge, author of Planetary Types: the Science of Celestial Influence
---
Order Breathe Into Being today, in paperback or for instant download, through Amazon.com
*An earlier version of the book was sold through my websites under the title The Breath of Presence.